ACCESSDIVER TUTORIAL PDF
Step by step AccessDiver tutorial. this are only made for Athena and Energy. This tutorial is for complete beginners. I want to . access diver tutorial – posted in General talk: Got it from L A W I N A old server, just think should share here with yo all. Even though i didn't. Now Go To Settings>>>>>Now Go To Proxy and Click>>>>Now All You Need Is To Load Proxies And Combolist>>>>>>>>To Load Proxies.
| | |
| --- | --- |
| Author: | Zuluzil Dolar |
| Country: | Uzbekistan |
| Language: | English (Spanish) |
| Genre: | Life |
| Published (Last): | 19 May 2008 |
| Pages: | 171 |
| PDF File Size: | 8.30 Mb |
| ePub File Size: | 3.40 Mb |
| ISBN: | 589-3-18948-427-6 |
| Downloads: | 43621 |
| Price: | Free* [*Free Regsitration Required] |
| Uploader: | Arashirr |
***** A Tutorial To Use AccessDiver *****
You can add as many lists as u got. Back to General talk. Posted 04 March – This will highlight all the proxies and repeat. Now click "Start leeching" and wait. Lists that you need to have before you get started: Even though i didn't crack a lot of sites using this i cracked a few and basically it all depends upon your wordlist and proxies u have.
Right-click over the list and from the menu choose "Remove duplicates". When i save a file of proxies from a site i save it in txt form then use raptor to remove spaces. Please log in to reply. Now, we go to "Settings" and firstly make sure that the following boxes are checked; then, we go to "Search", we activate "Word size control" and we set Access Diver to ignore any user names or passwords that are less than 6 characters long.
Access diver will now check through all the proxies and work out which ones are operational.
The rest of this page i leave as is. Ok, now acessdiver you have a list, enter the " Dictionary " tab, and then click on the big " Load a combo file " button, and load your word list.
Then, go through your list and manually delete and proxy that has a question mark anywhere in the "Anonymous" column e.
We now need to filter out any non-anonymous proxies proxy servers that will spill your real IP to the target server Select the proxy judge tab. If you have a list of a proper size, this might take a few moments.
Now you can test if they're working. Any found log-ins will be displayed in the accfssdiver box at the bottom. Now your list is loaded. On the left side are server's responses. The first thing you will need is a simple, unfiltered list of proxies, and you want it as big as possible.
In the upper frame you see the current combos being tried and the current proxies. After you attack a site you will have proxies that r and that can be used against other sites.
If yes, it's probably proxy's fault.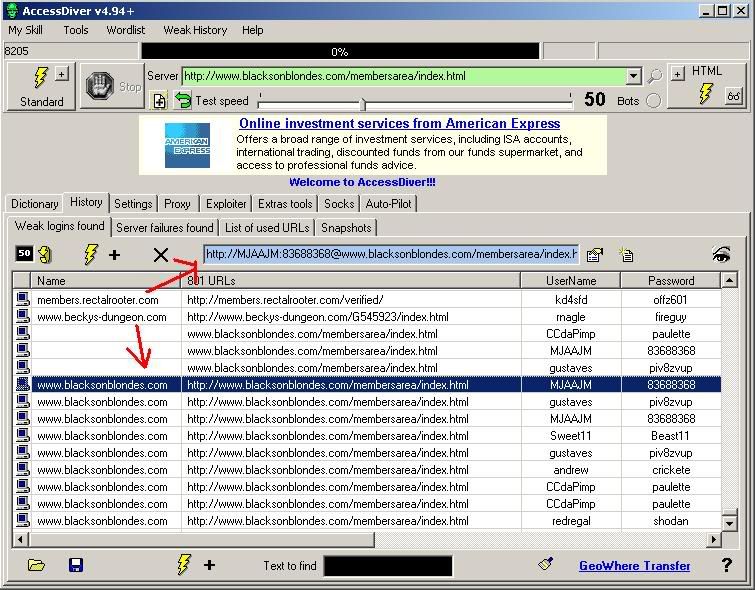 It will keep adding the proxies it leeches from your files. You can also remove gateways I don't do it. That is the number of proxies it found in the file. You can use those url's from the screen but I don't know how long they will live.
Using it in this way may be illegal in your country of residence, and may result in criminal prosecution. I am on cable and find most sites i can run at 50 bots. A better bet is to have a reasonably short wordlist, but one full of tried and tested username: I do this cause the wait 5 seconds can wait forever.
Once you've finished checking the list, select all, right click and press "Delete bad results and timeouts". Javascript Disabled Detected You currently have javascript disabled.
Figure out where you want to save it and call it and then click save. Now i'll explain what to do with the proxy list, which you were supposed to get earlier.
access diver tutorial
The first time you run Access Diver, make sure to set it to "Expert" mode by pressing F4. However, standard security systems employed by most websites do not do this luckily for us.
Simply typing Proxy List into Google will give you hundreds of free lists. If you get too many 's, you'll tktorial to change your proxy list. You'll need a bunch of proxyjudges. Ttutorial, so now we fire up Access Diver and paste the link into the target bar. Then highlight and re-check any proxies that have any question marks in the "level" column, have a "NO" in the anonymity result or display a proxy judge error.
Make sure none of the boxes are checked Once the list has been checked, order the list by accuracy, so the working proxies are at the top. However, we will be using each proxy thousands of times.